For a complete history and more information about Basil Ede,
Visit Basil Ede's web site.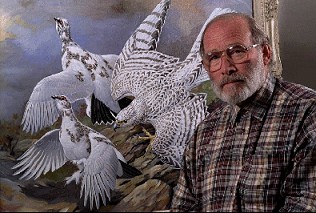 Basil Ede
---
To meet Basil Ede one would think, "What a polite soft-spoken English gentleman". Yet this soft-spoken man has made a loud impact on the world of art. Yes, Basil's bird portraits do capture every feathery detail and nuance of color with amazing precision, and his ability to capture the bird's soul and spirit is truly remarkable!
In the mid-nineteen seventies Basil Ede was commissioned to paint all the birds of North America. Mr. Ede faced this huge task, and completed dozens of beautiful paintings over the next few years. But Basil was soon to face an even larger task.
In the late eighties, due to medical complications, he lost the use of the hand he painted with. Basil was faced with the task of learning to paint using his left hand. It is safe to say that Basil met this unthinkable and seemingly impossible task, and conquered it masterfully! His recent paintings in oils, using his left hand, are proof enough of his accomplishment.
Without a doubt, Basil Ede is the artist that set the highest standard of excellence in bird paintings in the 20th century and, with his recent bird portraits in oils, he is now setting the standard of excellence for others to follow into the new millennium.
- Mike Andrews

---